Traditional Restaurant
Characterised by the valorisation of seasonal and regional produce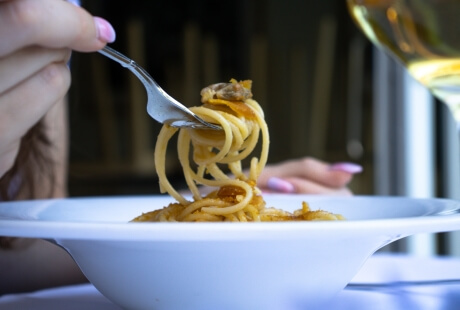 The à la carte menu of MISTRAL Restaurant is characterised by the valorisation of seasonal and regional produce. It offers a careful selection of dishes of the local and Mediterranean tradition, expertly prepared by the chef.
The freshly caught fish arrives from the fisheries of the Sinis Peninsula, vegetables come every day from the Bennaxi countryside, just a few kilometres from our hotel, and the fruit is mainly from Sardinia. Cheese, accurately selected among the excellence of the island, ranges from casizolu from Santu Lussurgiu to different kinds of pecorino.
To sweeten-up your meal, we suggest you a taste of our must-try: mustatzolus de Aristanis and our homemade desserts. Our sweets are ever-present on occasion of the traditional feasts: the fragrant frati fritti on Carnival, and the flavoured formaggelle on Easter, which provide a moment of pure delight with their scents and colours.
The proposals of the chef are accompanied by carefully selected wines, produced by the most important wineries of the area, among them: Contini Vernaccia winery, and Argiolas winery, without overlooking the most highly-regarded Sardinian wines, like Carignano from Sulcis, Cagnulari from the area of Sassari, and Nepente from Oliena.
The restaurant consists of two dining rooms. The largest one is ideal for the organization of major events; while the smaller one, facing the swimming pool, is ideal for private ceremonies, dinner parties and gala events. Upon request, our chef creates, personalized menus for all types of events, including catering service.
During the Summer season, you can enjoy your dinner outdoors, on our restaurant terrace.
Lunch is served every day from 12.30 to 14.30, and dinner from 19.30 to 22.30.
We offer vegetarian and vegan menus and we give utmost attention to food allergies and intolerances.
You do not need to be staying in hotel to taste the specialities of the chef. External guests are welcome as well.
To ask for further information or to reserve a table, please contact us at the phone number: +39 0783 210389 or at the email address: info@hotel-mistral.it